I am not typically a very religious person. But today, when I was having a difficult mom moment, I wrote this prayer. To be as forthright as possible, I should note that I have NEVER before written a prayer – and it was not a moment of religious enlightenment – it was just me (feeling exhausted, annoyed, frustrated, and desperate) throwing my hands up in the air and saying "help!"
I addressed it as "Dear Lord" because those are two words I use often (however, I should confess, it is not said in a very kind tone – it is my go-to exasperated and annoyed exclamation) and it is the name I use to refer to a Higher Being. Please feel free to substitute with a name/title/being that is most comfortable for you.
Dear Lord,
Please give me the strength to deal with my children…

Help me to have…
The patience to listen and care, even about the seemingly mundane and childish things,
The understanding to know when to offer support and when to appropriately challenge,
The ability to not get annoyed at their pestering and pushiness,
The wherewithal to persist in being the mom that I want to be, instead of mentally and emotionally running away,
The happiness and joy that I think I should be feeling more often,
The endurance to continue with the day-to-day aggravations and humdrum tasks of raising children,
The energy and enthusiasm to play and have fun with them,
The empathy for their tears and crying and the awareness that their emotions are real – even when, to me, they seem to be excessively dramatic and over reactive,
The knack to appropriately cope with their whining,
The stamina to follow through with consequences and teachable moments,
The kindness they deserve, especially when I am tired, drained, and spent.
And, please give me the capacity to forgive myself, when I can not find the strength to meet all these expectations.

Amen.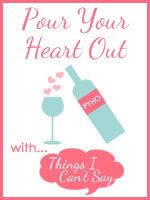 Today I am participating in
Pour Your Heart Out Wednesday
hosted by Shell at
Things I Can't Say
.
For some more great posts check out all the other blogger
Pour Your Heart Out
links
!