Have you ever felt misunderstood? Are there times, when you express yourself, but yet it seems that very few people "get it"? Or perhaps it is that I am, just now, beginning to "get" this about myself. Whatever the reason, since this has been swirling around in my brain for a while now, I think it's time to put it into words.
In this blog, I am open, honest, and share about challenging times – times when I feel raw, confused, sad, and vulnerable. I confess my weaknesses. I may sound very vulnerable, pathetic, delicate, and fragile. And, at times, I do feel those exact ways.
But, that is not who I am.
In fact, I suggest the opposite – a paradox, if you will.
Because I am weak, I am strong.
Let me, again declare (if only for myself): I. AM. STRONG.
I am not afraid to face my weaknesses. I am not afraid to look into myself and recognize that I can be wrong, misdirected, hurtful, and mean. For, I am human and I am flawed. Fortunately, I am also driven to analyze myself, and learn and grow from my errors. I choose to face my blemishes, instead of ignore, deny, blame, or dismiss them. I do this so that I can become a better person. A better me.
When push comes to shove, I am confident with who I am. And, secure in all aspects of me – even the unattractive parts. I am not afraid to be ME –
out loud!
Each time I click "publish" I am confident in what I have written and know that what was sent out, into the vortex of the internet, is an honest reflection of me.
I do, however, realize that the perceptions of my writing are yours to form.
I am just asking that you consider
(and for me to remember),
that what might seem weak, may actually be strong.
Thanks.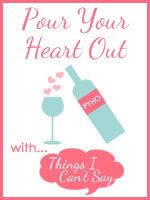 Today I am participating in
Pour Your Heart Out Wednesday
hosted by Shell at
Things I Can't Say
.