Peppered throughout the book
I Was A Really Good Mom Before I Had Kids
, by Trisha Ashworth and Amy Nobile are real moms' "Dirty Little Secrets". For instance one mom confesses
"I lost my job but still dropped my son off at day care and pretended to look for a job while I went shopping and got a manicure."
Another mom admitted,
"I don't know how to ask for help. I just know how to scream at my husband."
These "dirty little secrets" are the reality of motherhood and I think we hurt ourselves, our relationships, and other mothers when we don't speak about those so-called "horrible" things. Whether it is unrealistic expectations, guilt, fear of judgment, or something else that prevents us from talking about these secrets, the silence perpetuates these negative feeling. The silence seems to confirm that "Yes, that 'dirty little secret' IS awful!" When, in reality, these "secrets" are not horrible. They are merely moms doing their best while struggling with the expectations, guilt, and judgments our culture places on motherhood.
Trisha and Amy state in their book,
"So it's time to get real and start improving our lives in motherhood. And the first step involved being frank – with ourselves and with others."
And to that, I say, "Bravo!" So, in that spirit I offer to you my "Dirty Little Secrets".
There are times when I ignore and hide from my children in another room because I am not in the mood to be a mom.
Within the first days of being at home with my second son after his birth, there were times that I thought, "I don't know if I like him much."
When my boys gave up naps, I was bitter and resentful because they were taking away my afternoon moments of salvation.
Sometimes, just before my husband is due home from work, I make vacuum marks on my carpet so it looks like I have "done something".
I am already planning a "WooHooie, Let's Celebrate with Mimosas!" party for the first morning that my youngest gets on the bus for all day Kindergarten. And, I still have a year and half until that happens!
So Moms, what are your "Dirty Little Secrets"?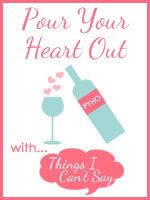 Today I am participating in
Pour Your Heart Out Wednesday
hosted by Shell at
Things I Can't Say
.